Deventure Hotel is Luxury & Budget Hotels in Karnal
Average Rating: 4.3 - Rated by 3 users
Rate this Dealer:
Business Description: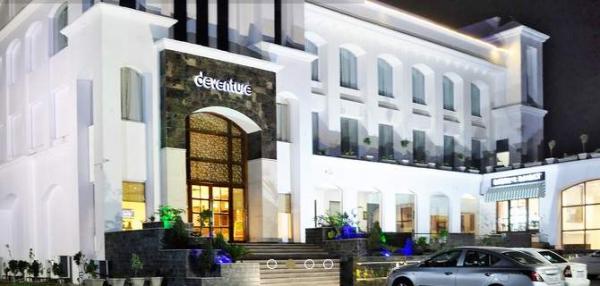 Deventure Karnal is a 4 Star Hotel located right in the heart of Karnal City. The hotel is situated within 10 minutes distance from the Karnal City Railway and Bus Stations. Delhi and Chandigarh International Airports are located within the 125 kilometers of the hotel. Guests staying in the hotel's newly refurbished 41 spacious rooms and suites will enjoy 'sEvery Room a Home's feeling as all the rooms and suites are comfortably furnished with shades of beige curtains and bedspreads to blend with a contemporary colored wallpaper to enhance the coziness of the rooms.

Deventure is a chain of Luxurious hotels & Resorts with a focus on providing unrivaled combination of warm Indian hospitality, contemporary, world-class service, and modern luxury. In an ever-shrinking world, Deventure Hotels & Resorts imbibes the local ethos and differentiates itself with a variety of experiences as the company'ss influence travels to exotic locales, cuisines and cultures. A leader in hospitality that is fast imprinting its exquisite brand of magnificence on the rest of the world, Deventure has retained the spirit and charm of the traditions of India, while blending these with unique experience and expertise required to create a hotel brand that is classic and contemporary.

Deventure hotel has the most spacious and well-furbished rooms in Karnal. For guests convenience and entertainment, all three of the deventure hotels have added wireless broadband internet access facility and additional satellite cable TV channels linked to all guest rooms and suites. The hotel's 24 hours CAFE-24 Coffee house offers snacks, mini-meals, local delicacies and irresistible desserts. Room service is also available 24 hours. Weekend Hi-Tea buffet is very well accepted by local and foreign guests. The dining offers fine dining cuisines and is a fabulous place to dine in comfort.
We are one of the best luxury & budget hotels in Karnal and are not limited to satisfaction of our customers but we also do value add for our customers. Our vision is to become No. 1 luxury & budget hotels in Karnal.
Contact Details:
Contact Person: Mr. Rajinder And Mr. Sudhir
Mobile No.: 9896115500, 9896100804

Address:
Nh-1, Pritam Nagar, Sector 14
Namaste Chowk Karnal

Get Best Deals & Discounts
Opening Hours Specification:
Currently Open
View full Hours of Operation
| | |
| --- | --- |
| Monday: | 10:00 - 18:30 hours |
| Tuesday: | 10:00 - 18:30 hours |
| Wednesday: | 10:00 - 18:30 hours |
| Thursday: | 10:00 - 18:30 hours |
| Friday: | 10:00 - 18:30 hours |
| Saturday: | 10:00 - 18:30 hours |
| Sunday: | 10:00 - 18:30 hours |
Year of Establishment:
2013

Currencies Accepted:
INR (Indian Rupee)

Price Range:
INR 1000-3000

Payment Accepted:
Cash

Map of Deventure Hotel - Namaste Chowk, Karnal
Listed in following categories/ keywords:
Hotels and Restaurants
Write a Detailed Review of Deventure Hotel: