Dr. Kansal's  Dentistree is Dental Implant Clinics in Karnal
Average Rating: 4.5 - Rated by 2 users
Rate this Dealer:
Business Description: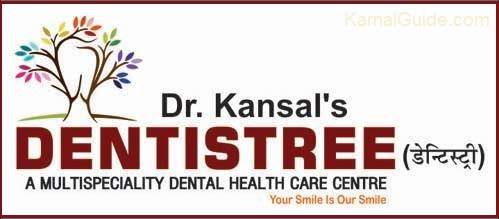 Dr. Kansal's Dentistree in Karnal is jointly run by Dr. Ankur Kansal (B.D.S. M.D.S.) who is orthodontics Braces Specialist and Dr. (Mrs.) Mukti Kansal (B.D.S. M.D.S.) who is Prosthodontics Gold Medallist Denture & Implant Specialist. This dental clinic is known in Karnal for best dentists and treatment of all dental problems like Tooth decay, cavities, gum bleeding, filling, root canal treatment, Bracing and dental implant etc. The clinic was established in year 2014 on Mughal Canal Karnal but now has been shifted to Sector 13 extension Urban Esate Karnal near community centre.

Dr. Kansal is known to have extensive experience as dentist who treats all dental problems with efficiency, dedication and precision. And the clinic is equipped with state of art infrastructure and latest equipments which are required for dental treatment. That is why the clinic is frequently visited by locals and people across the country for regular dental checkups and dental problems. Dr. Kansal aims at focusing on the patient's satisfaction and making it a pleasant experience for them and has earned a loyal clientele over the years. Dr. Kansal's Dentistree also has plans on expanding its business in the years to come, owing to its immense success and widespread popularity. Getting listed in this online business directory under the category of top dentists of Karnal city is one of the few initiatives this clinic has taken in that direction. Dr. Ankur Kansal and and Dr. (Mrs.) Mukti Kansal cure a wide range of dental ailments faced by the patients of all age. To name a few dental procedures they offer, inducing fillings and repairs in the tooth, root canal treatment and applying crowns (caps), performing root canal surgeries, bridges and implants, teeth whitening as well as extractions (surgical removal) of cavities, milky / disfigured/ wisdom teeth. One can rest assure for the best treatment of dental problems in this dental clinic.

Year of Establishment :
Year 2004
Payment Mode :
Cash
Opening Hours Specifications :
Morning Time: 10am to 2pm
Evening Time: 5pm to 8pm
Sunday: on appointment



More details of Dr. Kansal's  Dentistree like contact details like address & mobile numbers, location map, picture gallery, discount deals, reviews and ratings are given below:



Contact Details:
Contact Person: Dr. Ankur Kansal & Dr. (Mrs.) Mukti Kansal
Mobile No.: 8053997990, 9050697990
Email ID: ankur85kansal@gmail.com

Address:
Near Community Centre
Sector 13 Extension Karnal

Get Best Deals & Discounts
Opening Hours Specification:
Opening later at 10:00
View full Hours of Operation
| | |
| --- | --- |
| Monday: | 10:00 - 18:30 hours |
| Tuesday: | 10:00 - 18:30 hours |
| Wednesday: | 10:00 - 18:30 hours |
| Thursday: | 10:00 - 18:30 hours |
| Friday: | 10:00 - 18:30 hours |
| Saturday: | 10:00 - 18:30 hours |
| Sunday: | 10:00 - 18:30 hours |
Year of Establishment:
2013

Currencies Accepted:
INR (Indian Rupee)

Price Range:
INR 1000-3000

Payment Accepted:
Cash

Map of Dr. Kansal's  Dentistree - Sector 13 Extension, Karnal
Listed in following categories/ keywords:
Dentists
Write a Detailed Review of Dr. Kansal's  Dentistree: