Dr. Yogesh Chhabra's Path Lab is Pathology Lab Lab in Karnal
Average Rating: 4.6 - Rated by 13 users
Rate this Dealer:
Business Description: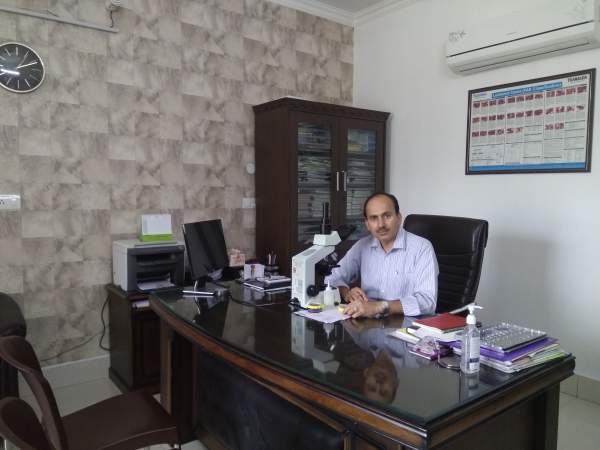 We are a State of Art laboratory using all types of Controls and Calibrators to get and release authenticated test reports. Personal attention is given to all the tests and report is explained to all patients for their betterment. Dr. Yogesh Chhabra has 15 years of post-MD experience from India and abroad.

Our pathology lab is equipped with DEXA Scan for BMD and rTMS for neurological and psychiatric diseases. We do all types of complete body tests, complete diabetic tests, all hormones, allergy tests, drug of abuse tests, kids profile, anaemia profile, fever profile, all types of infection & cancer test by blood, FNAC & biopsy.

We are very popular pathology lab Lab in Karnal and having expertise in our area. Our mission is to satisfy the customer in every respect and to be the best pathology lab Lab in Karnal.
Contact Details:
Contact Person: Dr. Yogesh Chhabra
Mobile No.: 9802434106
Phone No.: 0184-2201649
Email ID: yogchha@gmail.com

Address:
Dr. Yogesh Chhabra
House No. 4, Sector 14, Urban Estate Karnal

Get Best Deals & Discounts
Opening Hours Specification:
Opening later at 09:30
View full Hours of Operation
| | |
| --- | --- |
| Monday: | 09:30 - 19:30 hours |
| Tuesday: | 09:30 - 19:30 hours |
| Wednesday: | 09:30 - 19:30 hours |
| Thursday: | 09:30 - 19:30 hours |
| Friday: | 09:30 - 19:30 hours |
| Saturday: | 09:30 - 19:30 hours |
| Sunday: | 09:30 - 19:30 hours |
Year of Establishment:
2005

Currencies Accepted:
INR (Indian Rupee)

Price Range:
INR 500-6000

Payment Accepted:
Cash, Cheques

Map of Dr. Yogesh Chhabra's Path Lab - House No. 4, Sector 14, Urban Estate, Karnal
Listed in following categories/ keywords:
Diagnostic Centres and Path Labs in Karnal
Write a Detailed Review of Dr. Yogesh Chhabra's Path Lab:
Recent Reviews of Dr. Yogesh Chhabra's Path Lab:
Vikas Gandhi on 12-08-2017 10:07 PM

Very Good Customer Handling

Sunil on 02-11-2017 12:12 PM

Can we have a H1ba Blood Sugar Test at very reasonable prices. I am sure we can have

Rakesh Pasricha on 09-06-2018 01:47 PM

Good job sir Coumtinues your service to mankind

Sonia on 02-10-2018 09:35 AM

Accurate results at best price is the key point of Dr. Yogesh Chhabra Path Lab, which we rarely find anywhere else in Karnal

Sandeep Dhingra on 30-06-2020 08:37 AM

HCG test