Rising Sun Public School is CBSE Schools in Karnal
Average Rating: 3.9 - Rated by 7 users
Rate this Dealer:
Business Description: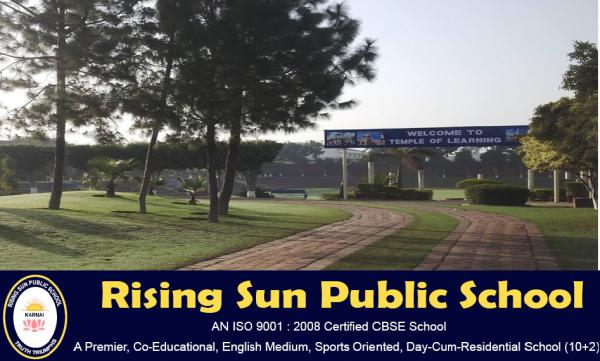 Rising Sun Public School is one of the best CBSE public schools in Karnal. The school is equipped with state of technology laboratories and other infrastructural facilities that support excellence in all areas. The infrastructure has been suitably planned to facilitate learning and all round development of the child. The school stands on an extensive 12 acre campus in the picturesque in Karnal. Rising Sun Public School is located in a pollution free campus in the calm outer area of the city.

From Director's Desk
The future of our nation lies with our children. Our real investment lies in educating them. Their shoulders may look delicate but our children have a tremendous amount of tenacity and lots of determination. With the right training and education our children learn skills to enhance their capabilities to secure their own future as well as the future of our nation.
.
The purpose of education is not merely making a child literate but empowering the child with skills that will enhance his personality, make him a good human being and help him become a responsible citizen not just of our country but a global citizen in its true sense. There is increased level of stress for our children and their life is replete with strife and storm of daily struggles. The world has become competitive and our children have to share that world and survive. We must look at school education as a means to reach the end where our children are equipped to handle any crisis with ease and make this world a comfortable place to live for themselves and for others.

The torch of knowledge and education lighted by our dear father is being carried forward under the able guidance of Mr. Samar Singh Kalyan, President, Rising Sun Public School.
.
We at Rising Sun, management and staff diligently work towards making the school that perfect place to learn and grow for our children.

We are very popular cbse schools in Karnal and having expertise in our area. Our mission is to satisfy the customer in every respect and to be the best cbse schools in Karnal.



Contact Details:
Contact Person: Mrs. Kamlesh Sagwal
Mobile No.: 9416137902, 7056645566
Phone No.: , 2390844

Address:
Kalyan Farm, G.T. Road
Madhuban Karnal

Get Best Deals & Discounts
Opening Hours Specification:
Currently Open
View full Hours of Operation
| | |
| --- | --- |
| Monday: | 10:00 - 20:00 hours |
| Tuesday: | 10:00 - 20:00 hours |
| Wednesday: | 10:00 - 20:00 hours |
| Thursday: | 10:00 - 20:00 hours |
| Friday: | 10:00 - 20:00 hours |
| Saturday: | 10:00 - 20:00 hours |
| Sunday: | Closed |
Year of Establishment:
2010

Currencies Accepted:
INR (Indian Rupee)

Price Range:
INR 200-7000

Payment Accepted:
Cash, Cheques, Debit Card, Credit Card

Map of Rising Sun Public School - Madhuban, Karnal
Listed in following categories/ keywords:
Schools in Karnal
Write a Detailed Review of Rising Sun Public School: