Madrasi Masala Dosa is South Indian Restaurant in Karnal
Average Rating: 4 - Rated by 3 users
Rate this Dealer:
Business Description: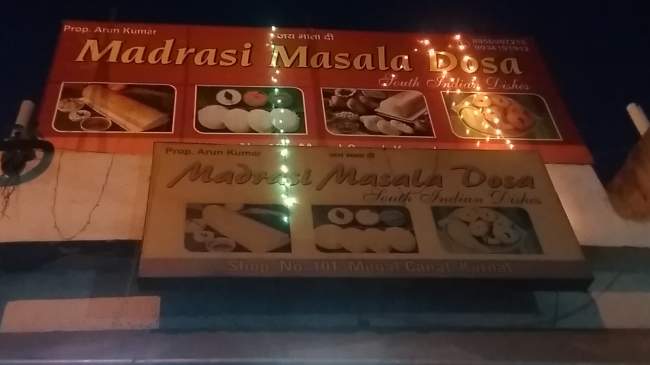 Madrasi Masala Dosa is one of the oldest Masal Dosa restaurants in Karnal city and this restaurant also offer other south Indian dishes and snacks like Idly, Plain Dosa, Masala Dosa, Sambar Wada, Lachha Prantha etc. It is situated on Mughal canal and the popularity of this South Indian restaurant can be imaged from this fact that it has become a landmark for any destination on Mughal Canal market.

This restaurant is run by Mr. Arun and Mr. Ramesh whereas Mr. Arun is the first South Indian belong Tamilnadu who firstly introduced South Indian dishes in Karnal. He has specialization in all types of Dosa like Masala Dosa, Plain Dosa, Butter Onion Dosa, Butter Masla Dosa, Onion Masla Dosa, Paneer Masla Dosa, Butter Onion Masla Dosa, Butter Paneer Dosa, Butter Onion Paneer Dosa, Butter Paneer Masla Dosa, Uttapam, Butter Onion Uttapam, Butter Tamto Uttapam Sambhar Vada, Sambhar Idli etc.

It is the best south indian restaurant in Karnal and always look for growth in terms of big customer base. We are very old in this business and too many years of experience is our key selling point.
Contact Details:
Contact Person: Mr. Arun & Mr. Ramesh
Mobile No.: 8950097215, 9034191912

Address:
Shop No. 101
Mugal Canal Karnal

Get Best Deals & Discounts
Opening Hours Specification:
Opening later at 10:30
View full Hours of Operation
| | |
| --- | --- |
| Monday: | 10:30 - 20:00 hours |
| Tuesday: | 10:30 - 20:00 hours |
| Wednesday: | 10:30 - 20:00 hours |
| Thursday: | 10:30 - 20:00 hours |
| Friday: | 10:30 - 20:00 hours |
| Saturday: | 10:30 - 20:00 hours |
| Sunday: | 10:30 - 20:00 hours |
Year of Establishment:
2012

Currencies Accepted:
INR (Indian Rupee)

Price Range:
INR 300-10000

Payment Accepted:
Cash, Cheques, Debit Card, Credit Card, Net Banking

Map of Madrasi Masala Dosa - Mugal Canal, Karnal
Listed in following categories/ keywords:
Restaurants in Karnal
Write a Detailed Review of Madrasi Masala Dosa: