Search any Dealer or Category of Business:
List of English speaking training institutes in Karnal
Spoken english classes in Karnal
Detailed list of spoken English coaching centres are published below where experienced faculties given the coaching for speaking English fluently and with correct grammar which helps students to get through IELTS with higher band.: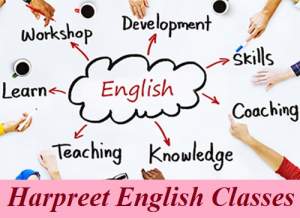 Anmol Rattan Singh Sagoo & Harpreet Singh Sagoo
9466866520, 9813166520
# 294, Opp. Guru Teg Bahadur Public School, Model Town
About Harpreet English Classes: Harpreet English Classes is located in Model Town Karnal and Guru Teg Bahadur Public School is the landmark near it. English is very essential these days everywhere to be successful in any profession or job. It is a known fact know that...
View Details

Atul Gupta
9416195879
karnal.cl@careerlauncher.com
Scf-24, Sector-13 Market, First Floor
About Career Launcher: Career Launcher Karnal is known as your education expert consultant and coach due to its consistency in teaching standards and outstanding results for over 12 Years now. We have had numerous IIM calls/ selections, various Govt Job selections...
View Details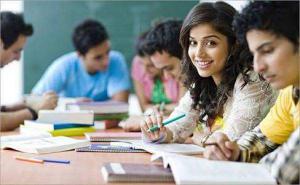 Aman Hike
9996639525
hikementors@gmail.com
Sco-135, 1st Floor, Opp. Govt. Boys Sr. Secondary School
About Hike Mentors Studies: Hike Mentors Studies is one of the best coaching centres in Karnal city and is headed by Mr. Aman Hike. Following are few of Salient features of the institute:

Salient Features:
* Established in June 2018
* Head office situated...
View Details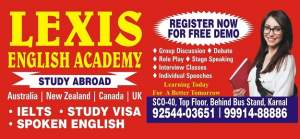 Sukhbir Singh & Satya
9254403651, 9991488886
sksaty155@gmail.com
Sco-40, Top Floor, Behind Bus Stand
About Lexis English Academy: Lexis English Academy is one of the best IELTS academy in Karnal and adjacent area. The academy has very well trained highly qualified and experienced faculties and teachers to teach students in a professional manner so as to get the...
View Details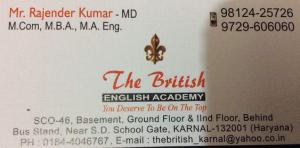 Mr. Rajender Kumar (MD)
9812425726, 9729606060
thebritish_karnal@yahoo.co.in
Sco - 46, Basement, Ground Floor & 2nd Floor,, Near SD Model School
About British English Academy: We are number one institute for learning English speaking and written knowledge of English. We make students learn English with special mechanism and methodology that they can speak fluent English in short span of time which help them in ILETS and studying...
View Details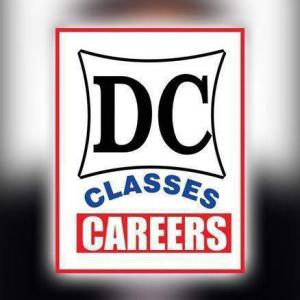 Dinesh Chopra
9896113736
H.No.1-A Subhash Colony, Near Govt. Sr. Sec. School
About DC Classes Career:
About DC Classes Careers
DC Classes Careers is very famous IAS & Defence academy in Karnal and is founded my Mr. Dinesh Chopra and now run by him along with Mr Pawan Pabana. The academy is now a decade old institute and mainly into coaching...
View Details
Mr. Amit Gautam (MD)
9354010007, 9355322100
theenglishhubinstitute7@yahoo.com
No. 1131, Opp. Haryana Nursing Home, NHBC, Sector 13
About The English Hub: The English Hub Karnal is one of the best Language Classes For English and its all details are published below:

The Academy was founded in the year 2013 under aegis of Mr. Amit Gautam who is managing director of the institute....
View Details