Search any Dealer or Category of Business:
List of SSB coaching Institutes in Karnal
Services Selection Board exams coaching in Karnal
Services Selection Board is an organization which is responsible for selection of candidates who become officers into the Indian Armed Forces. It is also known as SSB in short form and a proper training is required to clear the SSB Exams. Following are the detailed list of SSB Coaching institutes in Karnal city.: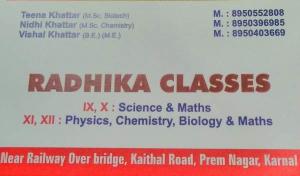 Vishal Khattar, Teena Khattar & Nidhi Khattar
8950403669, 8950552808
Near Railway Over Bridge, Kaithal Road, Prem Nagar
About Radhika Classes: Radhika Classes Karnal are one of the main coaching classes in the city which make student get through the examination. Radhika classes teach Science and Maths to class IX and X along with Physics, Chemistry, Biology and Maths to class...
View Details

Lt. Col. D.S Gahlawat & Col. J.P Singh
9872364935, 8168857713
davindergahlawat@live.com
Sco-20, 1st Floor,, Main Market, Sector 8
About Lakshya India: Lakshya India - "Cradle of Military Leadership" is a defence academy located in Karnal city. This defence academy is run by defence personnel of colonel rank which makes it different from all other academies. The methodology...
View Details

Ranjan Kamboj (Director)
7988030944, 8930700190
sragroupkarnal@gmail.com
SCO #101, Sector-27, Budha Khera, Sector 27
About SRA Group Of Education Institutes: SRA Institute is a foundation stone that provides dedicated and quality services at reasonable rates in this era of commercialized education. Today it has small business but big vision to evolve into a class apart institution to achieve excellence in...
View Details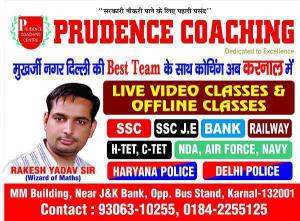 Paramjeet Singh & Naresh Kumar
8708350963, 8708762125
psraman.psr50@gmail.com
M.M. Building, Near J&k Bank,, Opp. Bus Stand Karnal
About Prudence Coaching: Prudence Coaching Centre is a coaching centre of excellence and spread across many cities of Haryana and other states. It is a venture by Mr. Rakesh Yadav who is known to be wizard of Mathematics. The students under his guidance got such...
View Details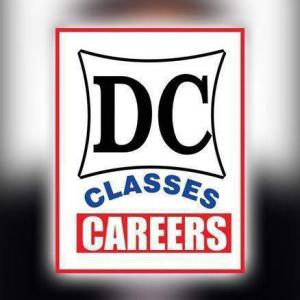 Dinesh Chopra
9896113736
H.No.1-A Subhash Colony, Near Govt. Sr. Sec. School
About DC Classes Career:
About DC Classes Careers
DC Classes Careers is very famous IAS & Defence academy in Karnal and is founded my Mr. Dinesh Chopra and now run by him along with Mr Pawan Pabana. The academy is now a decade old institute and mainly into coaching...
View Details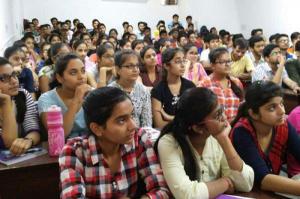 Genesis
9215638407
genesiskarnal@gmail.com
SCF-91, Main Market, Sector 6
About Genesis Classes Pvt. Ltd.: We provide excellent coaching for academic classes viz. ninth, tenth,+1 and +2 for all main subjects and IIT-JEE, JEE Main(AIEEE) & Advanced, Pre Medical AIPMT (NEET-UG), AIIMS etc....
View Details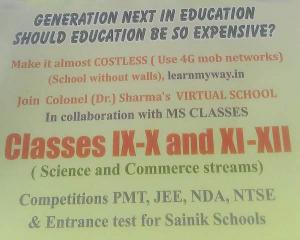 Mr. N.S.chauhan, Lt.col.(dr.) R.k.sharma
9416406972, 9357388588
mahaksinghlecturer@gmail.com
SCF-133, Main Market, Sector 6
About M.S. Classes: M.S. Classes is one of its own type coaching classes providing ' VIRTUAL SCHOOL' concept to make the coaching almost costless – Contact for more details about it or visit learnmyway.in, It provides the coaching to Science and Commerce stream...
View Details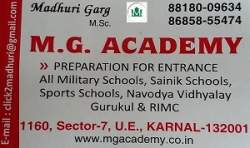 Madhuri Garg
8818009634, 8685855474
click2madhuri@gmail.com
No. 1160, Sector 7
About MG Academy: M.G. Academy is one of the largest Institutes in India for Entrance Exam Coaching for Rashtriya Military College (RIMC) / Military School / Sainik School in Karnal (Haryana). We are covering the students from entire country. We also provide hostel facilities...
View Details

Atul Gupta
9416195879
karnal.cl@careerlauncher.com
Scf-24, Sector-13 Market, First Floor
About Career Launcher: Career Launcher Karnal is known as your education expert consultant and coach due to its consistency in teaching standards and outstanding results for over 12 Years now. We have had numerous IIM calls/ selections, various Govt Job selections...
View Details

Arvind
7206061212, 8814898146
talentzoneacademy@gmail.com
Palm Enclave, Behind Sec 4, Near Heritage Lawn And Pnb Sec 4-5branch
About Talent Zone Academy: One of its kind in karnal that provides coaching with school education, we prepared students for various competitive exams like sainik school,military school,RIMC dehradun..!...
View Details