Search any Dealer or Category of Business:
List of Child Day Care Centres in Karnal
Baby care is most important for working parents, they need to find some child care centres or creche for their children when they are out for job. Following are the baby care creche in the city: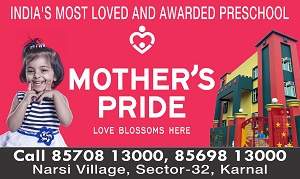 Mr. Ankur Mehta
8570813000, 8569813000
motherspridekarnal@gmail.com
Narsi Village, Sec 32, Near Noor Mahal Chowk
About Mother's Pride: Mother's Pride, India's most loved and awarded preschool, is a castle of love where love blossoms in full stride. Mother's Pride Karnal is located at Sector-32 (Narsi village) having colourful and child friendly Infrastructure....
View Details

Arshdeep
8295866226, 8397968029
arshdeepsa12@gmail.com
Shri Ram Building, Main Hansi Road Chowk,, Opp. Sant Nagar
About Little Flower Pre School: Little Flower Pre School is No. 1 Play school on thr area and is run by very highly qualified and experienced promoters who care your ward or child like their own and leave no stone unturned in shaping the future of your child....
View Details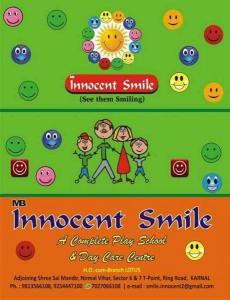 Mr. K.L. Arora  (Director)
9813566108, 9518274037
klarora54@gmail.com
Nirmal Vihar Colony, Near Sai Mandir, Sector 6
About Innocent Smile Pre School & Day Care Center: About Innocent Smile Pre School & Day Care Center

* Home away from Home
* Toy Library
* Theme based programme
* Day Care facility (7 AM till 6 PM)
* Learning studios
* Child Friendly Environment
*...
View Details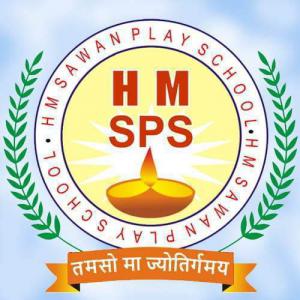 Anita Sanduja (director) & Anu Arora (principal)
9896048084, 9812347206
88-89, Dyal Singh Colony
About H M Sawan Play School:
About H M Sawan Play School Karnal:
It is a institution where your child or ward will not only learn the pre education but also ethics, manners, self-confidence, team work, leadership skills and much more which will help shape the future and...
View Details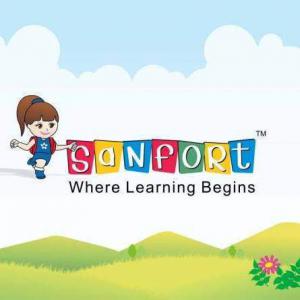 Rahul Kadyan
9896804414, 9996018195
32-a D.C. Colony, Near Modren Automobile,, Meerut Road
About Sanfort Preschool: After more than 10 years of rich experience in the field of preschool education, Mr. S. K. Rathor & Mrs. Kavita Rathor launched their school brand chain SANFORT in December-2009 based on the U. K. Concept of preschool education. Sanfort preschool Karnal...
View Details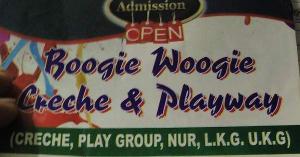 Mukesh. Bhatia
7206313306
mukesh.bhatia2020@gmail.com
C/o Milan Mini Mall, Sant Nagar, Hansi Road
About Boogie Woogie Play School & Creche: Boogie Woogie Play School & Creche is well known and emerging creche and preschool in Karnal. Your child or ward should join here for the better future as we shape future of child....
View Details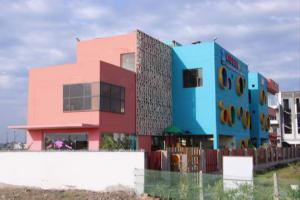 Jatin Chawla
9355505855, 9050033996
Near Main Road, Sector 33
About Kidzee World & Bean Stalk Junior School: Kidzee is an expert in preschool education and must be the best choice for your child. Kidzee is a pioneer of ECCE (Early Childhood Care and Education) in India and Nepal. We, at Sector 33 Karnal, are a part of this huge organization and follow the same...
View Details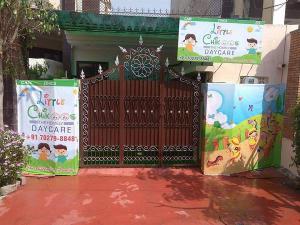 Ms. Ankita Saini (Director)
7027988481
csaini829@gmail.com
209-R, Behind Satiya Wala Mandir, Model Town
About Little Chikoos Day Care: Little Chikoos believes in the willingness to listen, the patience to understand, the strength to support and the heart to care.

"Little Chikoos" is a Child Day care and has been opened with full facilities. FULL Day,...
View Details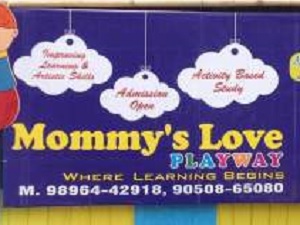 Anjali Ahuja
9050865080, 9896442918
mommysloveplayway@gmail.com
1759, Main Shiv Mandir Road, Sector 6
About Mommy's Love Playway:
About Us
We are one of the famous Playway Schools in Karnal. We have a special modus operandi for Mind development activities (with emotional intelligence, Sound Board, Sensory Board) of the children.
Following are the few activities...
View Details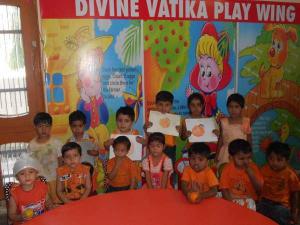 Ms. Asha Grover
8708239242, 9461950290
Gali No. 3, Gate No 1 , Shakti Colony, Mall Road
About Divine Vatika Play School: Divine Vatika Play School is located near DAV College in Shakti Colony, The Mall Road. It is very famous due to its special care of your child/ ward. Divine Vatika Play School works on the motto 'We do more in a day than some people do in a month'....
View Details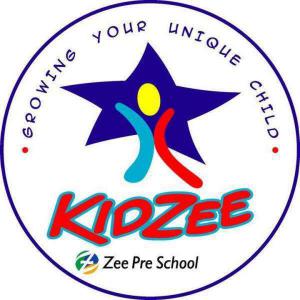 Kidzee
7027766003
kidzee.karnal@gmail.com
780, Opp Mahila Ashram Complex, Dav College Road,, Shakti Colony
About Kidzee Preschool: At Kidzee Karnal, we believe that every child is different with a different potential-an infinite one. So we have our very own pedagogy, iLLUME, that intends to help your child realize his/her unique abilities in a systematic manner. Through iLLUME Kidzee...
View Details